We have been using A+ Tutor Software for Josiah (3rd grade) and for Katherine (K/1st grade) for the past few months and I am loving the results. I am so happy with them in fact that my plan is to keep using this software next year as well. The lessons are engaging and fun and with this new "Identify and Close" program there is not a lot of "busy work". You can focus on what they need help in.
"Identify and Close" learning gaps in math ($29.99 for 3-months) – Everything Included!
Are you concerned that your student may have learning gaps in Math? Identify and close learning gaps in Math for just $29.99 with 3-month comprehensive program!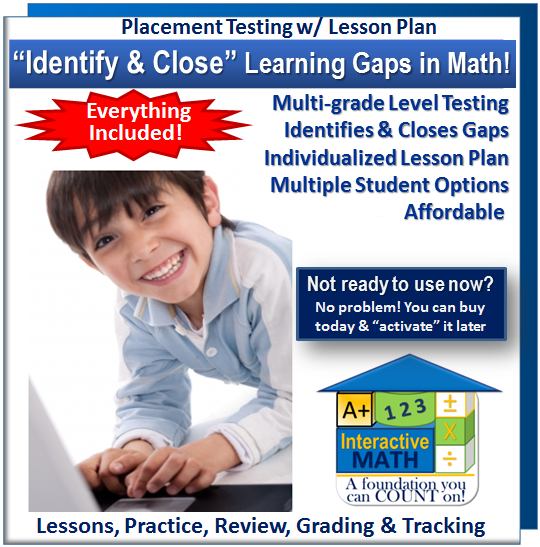 Look no further – You will get EVEYTHING with this 3-month comprehensive program!
 Multi-grade level testing
 "Individualized" lesson plan to target the problem areas
 Engaging lessons to learn math concepts (video, audio and text)
 Interactive review with automatic reteaching
 Practice problems to apply math concepts
 Step-by-step solutions to reinforce math concepts
 Automatic grading and tracking
 Excellent for any student regardless of what Math curriculum you are using and your skill level!
 Students make HUGE progress in just 30 minutes or less each day.

I have absolutely LOVED this program. I have watched my son excel at some of his biggest struggle areas in just a few months. His confidence has increased and his grades have soared. What I also love about this program is that it weeds out all of the areas that the child is proficient in and just focuses on what needs work. NO BUSY WORK!!!! It's a comprehensive program that uses intelligent algorithm for "adaptive" testing to identify your student's current skill level and then generates an "individualized" lesson plan your student can follow to help you close the learning gaps.
This NEW "Adaptive Placement Test with Individualized Lesson Plan" can be used any time during the homeschool year. You can also use this program at the end of the school year and over the summer to be certain your child is ready to advance to the next level. The Adaptive Placement Test w/ Lesson Plan helps you make sure there are no learning gaps after student has followed his/her "individualized" lesson plan. It is sold in three-month subscriptions, with huge discount for multiple students. The main purpose of this program is that it be used for short term assessment and intervention.
How does it work?
1. Each one of your student takes a "unit test" for each major concept to identify current skill level.
2. The program then creates an "Individualized" lesson plan your student can follow which includes everything you need.
3. You measure progress using various easy-to-read and very visual reports as your students master various skills and close learning gaps.
Not ready to use now? No problem! You can buy today & "activate" it later. You will have full 3-months from the day you activate it.
An "individualized" lesson plan includes everything you need to close the learning gaps!
 Colorful, engaging and fun multimedia lessons that teach math concepts using audio, visuals and text. Lessons make frequent reference to examples from daily life to make learning math more relevant.
 Interactive Review for each lesson identifies and closes learning gaps by automatically re-teaching math concept if student provides an incorrect answer to any questions.
 Worksheets to apply math concept and practice problem solving with automatic grading and tracking.
 Various reports to measure student progress.
Buy today & "activate" it later. You will have full 3-months from the day you activate it.
Also Available: A+ Interactive Math also offers complete line of comprehensive math curriculum for your homeschool journey. It offers several options to meet your individual needs and budget. The Family Math Packages give you the most flexibility and functionality.
Going into the summer is the perfect time to use the particular program as it is a short term way to help your child excel next year. No matter your education choice this is a program to give some consideration to. If your child had areas of struggle in math this year, you can break that cycle with this program. And what child does not want a little computer time during summer break!! It is a win, win for everyone! Check it out today!!
Disclaimer – I received a trial of this program in exchange for this review but all opinions are mine and I do LOVE this program. I received no other compensation and am disclosing this in accordance with this FTC rules.