We have been homeschooling for over seven years now and I am still working on organizing my homeschooling area. Am I the only one that struggles with organizing your homeschool? I am always on the hunt for new ideas and today I want to show you three things that have helped streamline our homeschool area more than anything else!
Three Ring Binders – Each child has a three ring binder with their name on it that is used to file all of the loose papers done throughout the year. If we are in the middle of a paper or need to keep a paper for reference it goes in the pocket on the covers. I have also put in dividers for each subject as to make it easier to file papers and to keep them more organized for when I file them into my records. I love how it allows me to see their work progress throughout the year and also allows each child to be responsible for their own work all the way to the filing of completed assignments.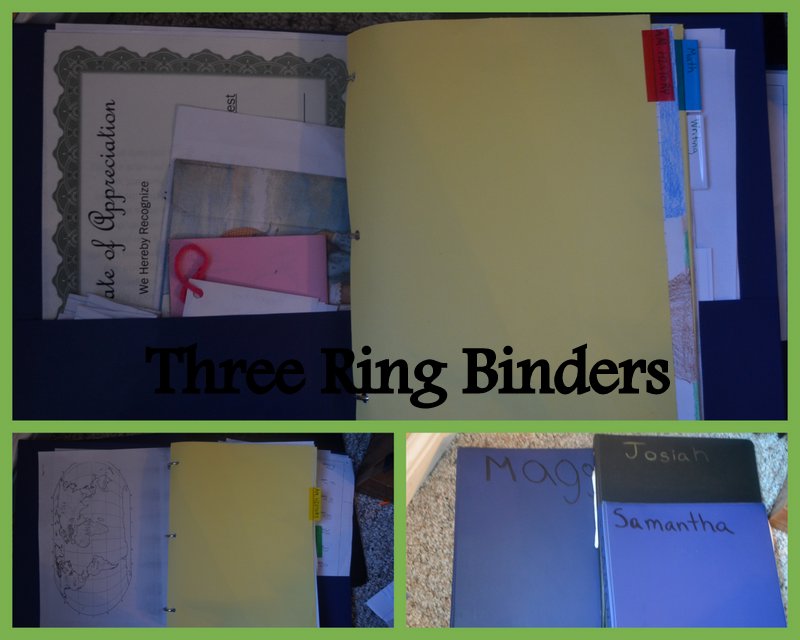 Plastic Crates – I do not have any permanent shelving in our sun room/dining room where we do all of our schooling so I had to get creative as I wanted to be able to have all of the books that we are currently using in these rooms instead of carting them back and forth out of a bedroom closet each morning. When I found the crates I knew I was on to something. For a couple years I used them as crates and even used hanging file folders in them as well as storing our books in them (spine side up). But recently when we were rearranging some furniture I realized that they were also made to turn on their sides and stack! They even kind of "lock" into each other. Instant shelves!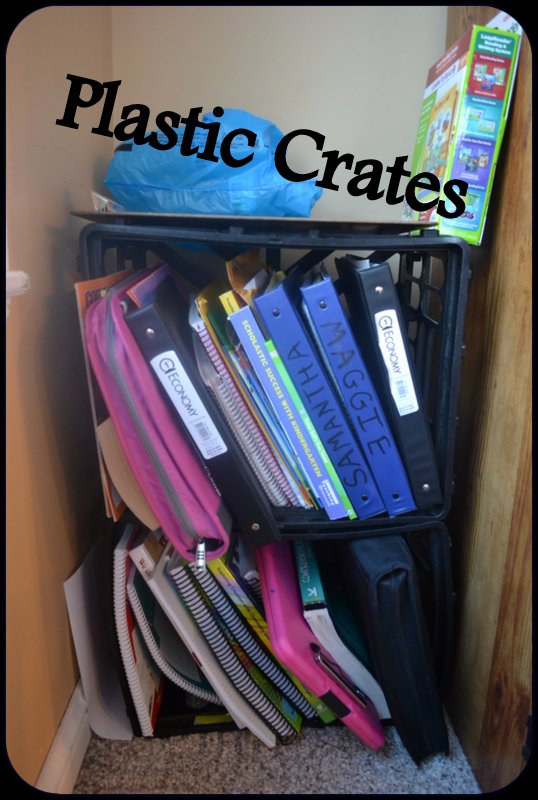 Dollar Store Tubs – I realized several years ago that those small little pencil and crayon cases that students keep in their desks was not going to cut it for a homeschool FAMILY. I didn't want 20 of those little things to stack somewhere so I went looking for a different idea. That is when I found some plastic "shoe boxes" on clearance for 50 cents each. I bought up a ton of them for games, flashcards, pencils, and crayons. Now we have one bigger box for each needed supply so when we start our day they are put in the center of the table for all to use. At the end of the day they stack neatly in the computer desk out of sight. And they are cheap too! Our local Dollar Tree has them for an everyday price of, you guessed it, a $1!!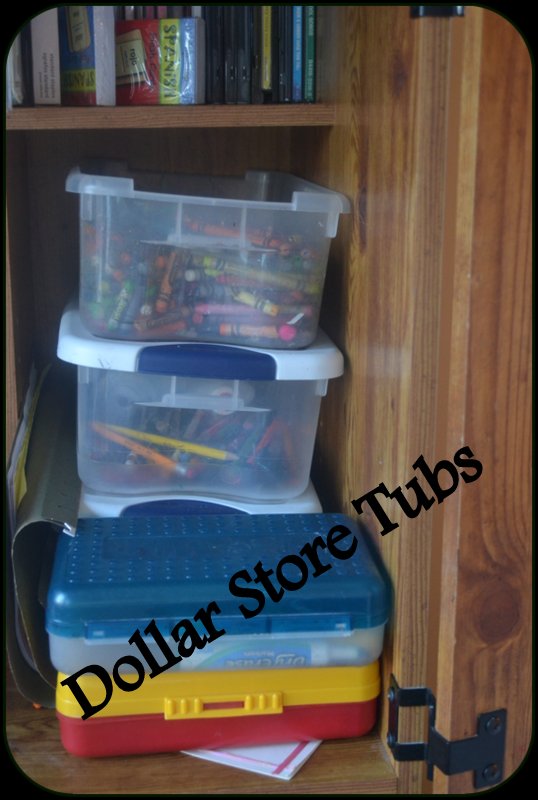 Homeschooling can be an overwhelming task in and of itself. Organizing your homeschool can be a sanity safer for sure. Every family is different and each space is unique but I hope that you can use these ideas in your homeschool. They have truly helped me to be able to find what we need at a moments notice and that just helps to reduce the frantic stress of each day.