So I made homemade country gravy last night with no mix or powder or even sausage drippings. Since we have changed to turkey suasage or our "home grown" pork my sausage has little to no fat in it so there is nothing left in the pan with which to make gravy for biscuits. But today I was able to solve that problem.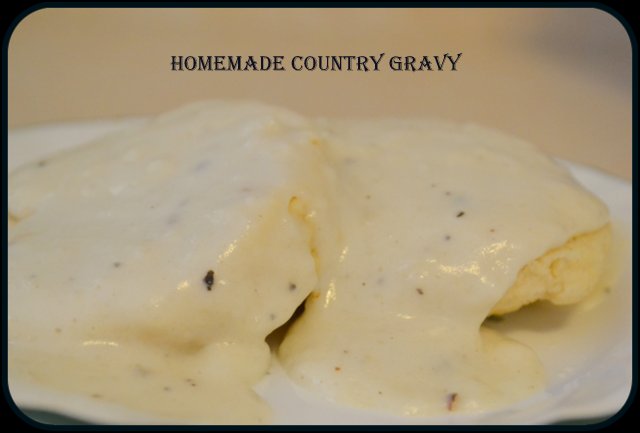 [recipe]
Homemade Country Gravy
3-4 cups of milk
1/4-1/2 cups of flour depending on desired thickness
Salt and pepper to taste
Pour milk into a pot and whisk in the first 1/4 cup flour slowly. Add salt and pepper. Bring gravy to boil and add additional flour if you desire thicker gravy. Enjoy!
[/recipe]
I poured milk into a pot. Just enough milk for the amount of gravy that you need will be great (I used about 3-4 cups). Then I whisked in about 1/4 cup of flour and salt and pepper to taste. I whisked it briskly while it heated until it boiled rapidly. I did come back and add a little extra flour because I wanted it a little thicker. I actually served this gravy over meatballs for dinner. I know this might sound like a crazy combination and it did to me too, at first. But my husband grew up eating this dinner and had been telling me how good it was. So, I made some homemade meatballs (with only egg, oatmeal, salt and pepper) and baked them up in preparation for this meal.
And my husband couldn't have been happier. He loved the gravy and said the meatballs were just perfect. And I actually enjoyed the meal too which is saying something for me right now. This pregnancy has left my appetite a little less then hearty for the past few months. I hope that you enjoy this super easy gravy recipe as much as my family did.
Don't forget to use the button at the bottom of this post to "Pin" this recipe to Pinterest!