I have been putting together a Christmas unit this year for our family. We have been looking at a different icon of Christmas and teaching our children how to "see" or be reminded of Christ in it. This is a work in progress but I wanted to share it here so others could use it if they choose to. I have used the book "The ADVENTure of Christmas" as one of the main resources for this study. As well as the Bible, my heart, and lots and lots of prayer.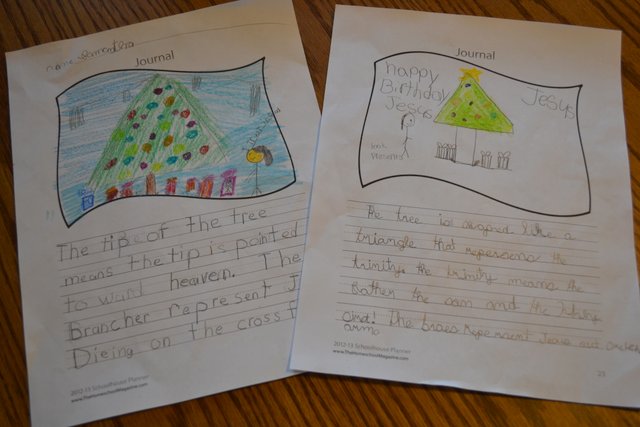 On the first day of our unit we focused on the Christmas tree. There is one in most every home, each and every store, and all over the neighborhood.
Item – Christmas Tree
Ways it Reminds of Jesus –
1. Jesus died on a cross made out of wood.
2. The branches of the evergreen tree extend out from the trunk just like the arms of God open wide to receive us when we repent and turn to Him in faith for salvation from our sins.
3. The tree stays green all year long just like God loves us all the time.
4. The three points of its triangular shape can remind us of the three persons of the Trinity, the Father, the Son, and the Holy Spirit.
5. The tip of the tree points toward as heaven as should our actions. Our lives should be lived in such a way as to help others find God and to know His love.
Bible Verse – John 3:16, 1 John 4:10, Jeremiah 31:3 (These can be used as readings, copywork, memory work, etc)
Histroy Behind the Icon – Read the story HERE or from the "ADVENTure of Christmas"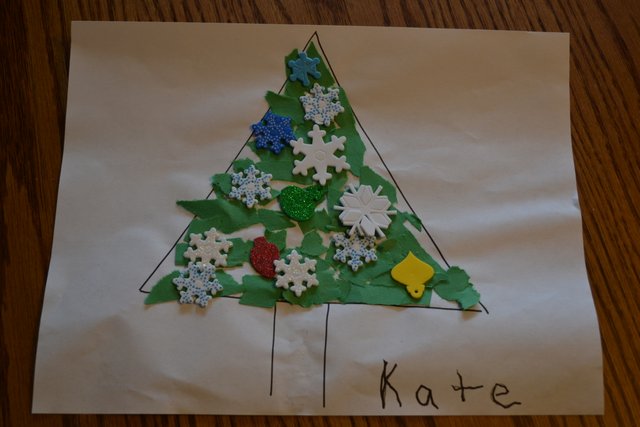 Activity – We made torn paper Christmas trees with foam stick ornaments but you can find almost countless Christmas tree crafts online and choose one that you have materials for and that fits the ages of your children.
I hope that you find these lessons useful. They have really helped our family to enjoy the crafts and activities of the Christmas season but with greater reminder of WHY we are celebrating. Fell free to use this lesson, share this lesson with family and friends too. Just please link back to this post when sharing it. Thanks!!