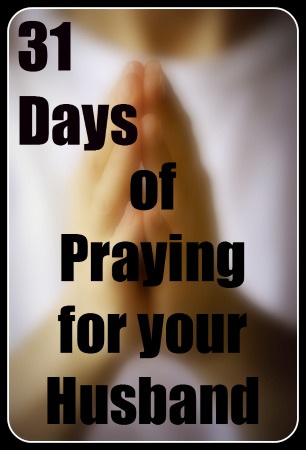 With all of the stresses that adult life can bring it is a constant battle to fight against anger. The drive through is slow. The cashier at the store is way too chatty when we are in a hurry. The light turns red as we approach, again, for the fifth time today. Our boss doesn't listen. Our coworkers are lazy. Our stress builds and builds all through our day until we get angry. But God tells us to live at peace with others as much as we can, so we must fight against the stress and anger and we must pray for our husbands to do the same.
Day 19- Pray that your husband will be patient and a man of peace. Pray that he will not give in to anger, but will allow the Holy Spirit to control his responses.
Romans 14:19 So then let us pursue what makes for peace and for mutual upbuilding.
Psalm 34:14 Turn away from evil and do good;
    seek peace and pursue it.
Romans 12:18 If possible, so far as it depends on you, live peaceably with all.


Share and Enjoy