This post is a little late but I still wanted to share a few of the images from Elizabeth's first birthday photography session. I did the pictures myself with a tutu from a friend. She was not in a cooperative mood so we didn't get to do a ton of shots but the memories were captured none the less.
She wasn't walking by her birthday and wanted NOTHING to do with standing in the grass so she is sitting in all of the pictures.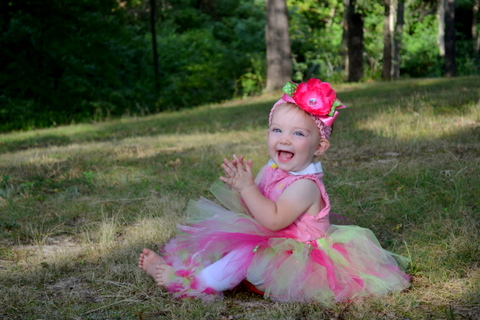 It always amazes me how a child's personality comes out in pictures. She is just smiles all the time. She will give a smile to almost anyone that gives her even a glance. And this girl seriously loves to clap. I mean, she claps any time there is music on. Just loves to clap.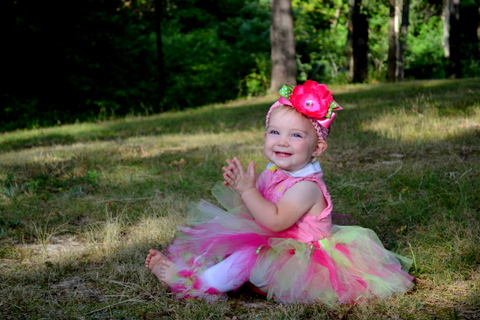 She has learned about 5 signs now and is saying about 5 words clearly. She finally started walking a week after her birthday and then by last week (September 9th) was walking more than crawling. And now on September 15th she hasn't crawled in days and is gaining speed, confidence, and stability with each hour.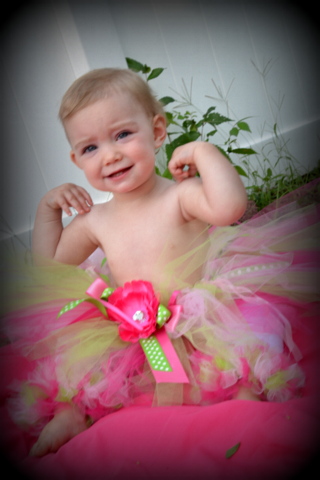 I know many people question the ability of a family to truly love and provide the emotional support to each child when the family grows past the "normal" size, but I would have to say that anyone that spends any time with Elizabeth would be confident that she is loved and cared for in every possible way. Through her birth even more than the others I have seen how siblings help to love and care for each other. They build bonds with each of their siblings that is unique to just the two of them. But that bond runs deep. That bond is strong. Many times when one of my children is hurt or sad, by the time I reach their side they are already surrounded by concerned siblings. That is love. That is family. No matter what size yours is, the bond between each one in a family is one of the most important relationships you will ever give to your children.

Share and Enjoy