When you have a large family there are lots and lots of chores to be done. And those chores take a lot of work and organization. Our large family chore system has taken years and years to perfect and I have come to learn that even though it is working right now, it may not work next week or even tomorrow. But for the past few months it has been working wonderfully and I am so happy to share it with you today.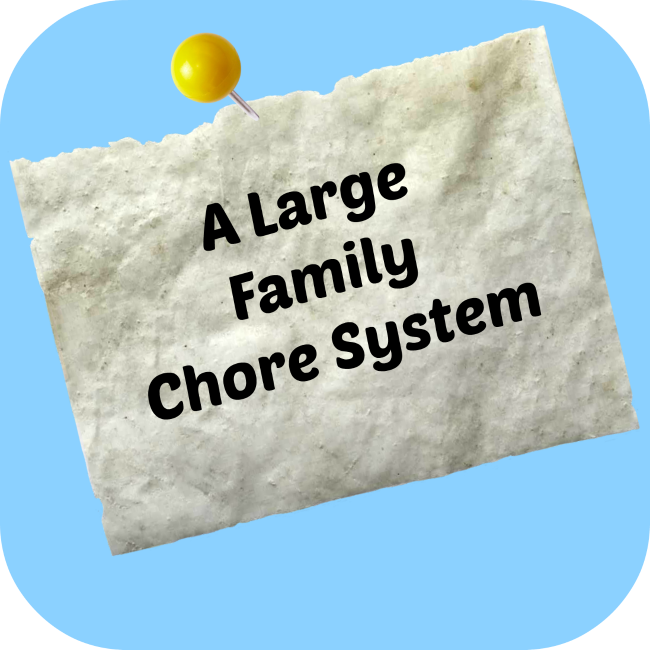 There are actually three parts to this large family chore system. My children have morning chores, afternoon chores, and then dinner table chores. We also have three sets of chores that we rotate through right now because only the three older children use the system right now. There are three sets of chores and each child has one set for an entire week. The first set includes feeding our dog in the morning, picking up the living room, foyer, and dining room in the afternoon, and then clearing the table after dinner. The next one focuses on laundry in the morning, the bathroom and bedrooms in the afternoon and putting food away/clearing the table after dinner. Our third set of chores is all kitchen based. They unload the dishwasher in the morning, wipe down counters, cabinets and floors in the afternoon, and then unload and reload the dishwasher after dinner. We keep all of the kitchen based chores on the same child's shoulders for a week because that way if we find dirty dishes in the cabinet we know who put it away. This helps us to teach the children proper techniques and responsibility in their chores.
So here is what it looks like
Chores -
Child 1 -  (M) Feed Dog, (A) Pick up Living Room, (D) Clear the Table
Child 2 – (M) Fold Laundry, (A) Clean bathroom/bedrooms, (D) Put away food
Child 3 – (M) Unload Dishwasher, (A) Wipe down counters, table, kitchen floor, (D) load dishwasher
M- Morning     A – Afternoon    D – After Dinner
Breaking the chores into three sets helps to make the tasks more manageable for the children and much more effective for momma. The first set of chores are done before that child is allowed to eat breakfast. This helps hold the child accountable for getting them done and in a timely fashion. The afternoon set was put into place to help ready the home for Dad's return. I chose chores that would help to clean up from the business of the day and also to start paving the way to dinner time prep. And then their daily chores are finished out when they all pitch in and help to clean up after dinner. It may sound like a lot to place on a child's shoulders but throughout the whole day a child that is focused and working will only be working on chores for about an hour and a half.
We believe that chores are an amazing way to teach children a good work ethic, responsibility, and leadership while they are young. These skills will help them throughout their life as they seek a job, raise a family, and will also allow them to be self-motivated workers for a life-time.
Do you have a chore system in your home that allows your children to take on some of the responsibility of the household. I would love to hear all about it. Use the green "Comment" button near the post title to type a comment for me.

Share and Enjoy